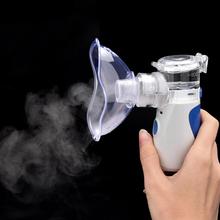 Dr. Lieurance says, "A nebulizer is able to convert a liquid into tiny bubbles that are so tiny that they can only be seen under a microscope. When these bubbles come out of the nebulizer, they are so small that they look just like smoke. And that's the magic of a nebulizer. The bubbles are so small that they can be inhaled deep down into the deepest regions of the lungs without any discomfort or irritation. It's a great way for asthmatics to get the medication they need to open up their lungs."
Few practitioners consider the systemic effects of nebulizers. When we hear from patients using nebulizers with pharmaceuticals that it makes them feel the side effects just as badly as when the doctors were giving the same drug intravenously in the hospital, we are actually hearing that the medicines are not only being delivered to the lungs but also being delivered directly into the blood stream and systemically into the rest of the body.
This is important to appreciate because it opens a wonderful delivery system that is important for certain populations like infants, children, intensive care patients and to all those who are trying to care for themselves or loved ones at home.
The great strength of nebulizers is their capability of delivering medications and moisture directly to the tracheobronchial tree. Contrary to other treatment options, higher concentrations in respiratory secretions can be achieved with aerosol therapy. With the use of this localized delivery system effective antimicrobials can have a direct effect on surface organisms in the bronchial system.
Nebulization thins secretions & mucus making it easier to expel pulmonary secretions
Nebulization makes coughing easier while lessening the need to cough
Nebulization keeps your windpipe & trachea lining and stoma moist & healthy
Nebulization moistens the air that goes into your lungs
Nebulization hydrates & moisturizes your nasal passages, mouth and throat
Nebulizers are good for young children, people who have trouble using metered dose inhalers, and people who have severe asthma. Within 10 to 15 minutes, the medication is used up and symptoms are gone, or prevented for six to eight hours. Even babies can breathe the mist and nebulizer treatments are fast becoming pediatrician-approved alternatives to over-prescribed antibiotics.
Special Note: Some research has found that inhaling glutathione in mildly asthmatic people may cause bronchospasm due to sulfite formation. The connection to good glutathione levels is crucial in asthma, but needs to be weighed against the risk of bronchospasm when inhaled. Caution must be used at all times and glutathione levels may be more safely raised in asthmatic people by oral or other means. Proper medical supervision is advised at all times when asthma is a risk so as not to cause undue stress on this very sensitive bronchial tissue.