Ultimate Support for CIRS 
After many years of development, we bring you a home kit that actually works!  Dr. John was sick for many years and was able to discover the key aspects of a natural, non drug and non antibiotic approach support for CIRS (Chronic Inflammatory Response Syndrome). This syndrome was first described by Dr. Richie Shoemaker, who has pioneered many aspects of diagnosing and treating CIRS  due to mold illness. Dr. John has trained extensively with Dr. Shoemaker.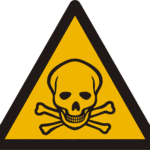 Lyme disease, Breast Implant Illness and Mold Illness share similar phenomena, where toxins are not adequately cleared from the cell. This is due to the exposure and or build up of these primary fat soluble toxins, such as biotoxins from the bacteria, Borrelia burgdorferi and the mycotoxins from mold organisms.
Biotoxins are substances which are both toxic and have a biological origin. They come in many forms and can be produced by nearly every type of living organism. There are mycotoxins (made by fungi), zootoxins (made by animals) and phytotoxins (made by plants). See the biotin pathways and all the ways they can have negative effects on your health.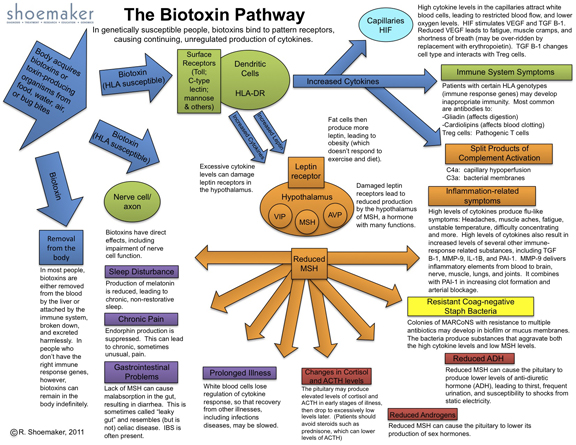 What I have found clinically, is that there are genes some individuals do not have, such as the immune response genes (HLA-DR genes) that are required to eventually form an antibody to a given foreign antigen. In these cases the biotoxins are not 'tagged' and remain in the body indefinitely, free to circulate and wreak havoc. This applies to a subset of the population (about 22%), which prevent them from clearing these biotoxin's from the cells. The accumulation of these biotoxin's occurs particularly within the cell membranes, which is a fat soluble area of the cell and has a slow turnover of about 18 months.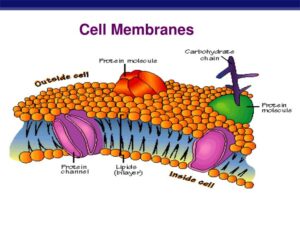 That allows these toxins to remain for long periods of time. The accumulation of these toxins within the cell is the primary cause of CIRS. This is  the primary way the cells communicate with the environment, where it strives to balance itself based on what it's exposed to. When the messages through the cell membrane become altered, or they are not able to properly make these communications,  the cell will begin to relate to its environment with inflammation. Clearing the cell membrane of biotoxin's is not an easy task and cannot occur quickly due to the turn over rate. Therefore, it is important for any CIRS sufferer to focus on a long term care program to deal with this specific issue. (4-6 months at least). I have outlined a protocol for what I call "Membrane Resolution", where specific oils and Phosphatidylcholine (PTC) is given with specific binders, to pull these toxins out of circulation in the gut and liver.
MARCoNS nasal infection is a Multiple Antibiotic Resistant Coagulase Negative Staphylococcus infection, which produces a very sticky substance called a biofilm. The bacteria uses this to protect and hide itself from your immune system. This infection is particularly prevalent in Lyme and Mold Illness (CIRS) cases!
MARCoNS resides deep in the nasal passage of  those suffering from Biotoxin Illness and other chronic inflammatory illnesses, such as CIRS (Chronic Inflammatory Response Syndrome) and CFIDS (Chronic Fatigue and Immune Dysfunction Syndrome).  This percentage increases when the person has also been treated with antibiotics for a month or more.  Once they have taken up residence, MARCoNS will lower your Melanocyte-Stimulating Hormone, increases cytokines, and lower T-reg cells. This results in Chronic Fatigue symptoms of body aches and debilitating exhaustion.  MARCoNS is not an infection, but a commensal colonization that can become an infection.  These bacteria send chemicals into the blood (exotoxins A and B), that increase inflammation. By cleaving MSH, it causes a further decrease of MSH levels, which in turn creates more inflammation.  MARCoNS live in the deep nasal passages and is common in all biotoxin illness. I have worked hard to formulate a protocol to address MARCoNS as it is notoriously difficult to irradiate! First you should get tested here. Testing resources for MARCoNS.
Testing is suggested. Here is a link to more information on Marcons A & B,  GlutaStat VS
Down regulating inflammation, neuroprotection and sleep.
Glutathione suppositories can support detoxification. Glutathione works like fly paper, wrapping itself around toxins such as heavy metals, man made chemicals and biotoxins, carrying them out of the body through urine and feces.
It wasn't until about 5 years ago that the powerful benefits of Melatonin where brought to my attention by Dr. Russel Reiter, MD and Frank Shallenberger, MD.
The neuroprotective role of melatonin in neurological disorders. Ref
"It has been reported that melatonin level is disturbed in some neurological conditions such as stroke, Alzheimer's disease, and Parkinson's disease, which indicates its involvement in the pathophysiology of these diseases. Its properties qualify it to be a promising potential therapeutic neuroprotective agent, with no side effects, for some neurological disorders." Anyone who has suffered from CIRS will tell you the neurologic aspects of the disease can be crippling and anything that can down regulate that insult would be critical to a successful plan.
" Taking melatonin may extend your healthy, productive life span. As you age, your body produces less and less melatonin, depriving you of this sleep enhancing, free radical scavenging, heart calming, immune stimulating, cancer fighting hormone– in short depriving you of one of your bodies best defenses against aging. Replenishing your supply of this vital hormone may allow you to live longer, and allow you to avoid crippling diseases such as arthritis, diabetes, heart disease, cancer, Alzheimer's and Parkinson's. The possibility of this is more than wishful thinking . Laboratory studies show that giving melatonin to aging animals has extended their lifespan by as much as 20%!" Russel Reiter, MD
Once the benefits of both of these master antioxidants are understood, it makes perfect sense that it would support someone suffering from CIRS (Chronic Lyme/ Mold Illness). Sandman is a product that includes both of these in one product. This means you will not have top buy 2 different products to get a substantial dose of both Melatonin (200mg) and Glutathione (250mg).
Try the combination of Glutathione, Melatonin and also CBD together!
What is chelation therapy used for?
Excessive toxic metal exposure from fish, air, food, water, dental amalgams, and other sources is becoming a recognized and established underlying cause of both acute and chronic disease, and can be a complicating factor with CIRS. With ongoing medical research validating the link between chronic diseases like heart disease and environmental exposure to toxic metals, it is more important than ever for doctors and patients to be well-informed about the detrimental effects of toxic metals, and the potential treatments for heavy metal toxicity, including chelation therapy. Chelation therapy is most often used to treat heavy metal toxicity. Because EDTA can reduce the amount of calcium in the bloodstream, and because calcium is found within the plaque that can line diseased blood vessels, chelation can be used to treat atherosclerosis (hardening of the arteries), by reopening arteries clogged with plaque.
IV chelation therapy often utilizes the chelating agent disodium
ethylenediaminetetraacetic acid (EDTA) and is sometimes referred to as EDTA chelation. EDTA chelation is being used in the treatment of all forms of atherosclerotic cardiovascular disease, especially heart disease and peripheral artery disease. Although there is less published research in these areas, chelation therapy is also being used to treat macular degeneration, osteoporosis, mild to moderate Alzheimer's disease associated with heavy metal toxicity, autoimmune diseases (especially scleroderma) and fibromyalgia or chronic fatigue syndrome, with high levels of toxic metals detected with a challenge test.Ref
IV Chelation is used commonly in alternative medical clinics, however there is  evidence that taking chelators in a suppository could be just as effective. IV chelation therapy is given into the vein through a needle. Each dose is given slowly over three or four hours. This is generally done two to four times a week over 30-60 weeks. Chelation is usually more than $150.00 per session and patients must spend time away from work. Also, because a high dose of chelation is delivered over a short time period, stress is placed on the kidneys. An alternative delivery method of chelation is through a rectal suppository. The suppository is absorbed through the sigmoid colon (during sleep) and works gently to detoxify any heavy metals. Utilizing a suppository formulation places less strain on our organs, including the liver and kidneys. ABC has combined both CaEDTA and Glutathione in one product called ChelaTox or safer chelation, where the toxins are chelated out, mopped up by Glutathione and carried safely out of the body. A human study confirmed the powerful benefits of combined Glutathione and EDTA application for toxic removal: 3.8 times more toxins were excreted in the urine compared to EDTA only application.
If your issue is breast implant illness, there have been many cases I have seen where heavy metals were found in the implants. Chelation has been an important area of focus with these cases. With Lyme and co infection, it is also predominant with almost all cases I have seen. A toxic environment makes for a better environment for microbial growth.
Binders to mop up biotoxins in the Gut and Hepatic Biliary (liver) system
To heal from CIRS due to Lyme disease, co-infections, Mold illness & breast implant toxicity and any other biotoxin-related illnesses , we must help our bodies detoxify at a cellular level but also in the gut and hepatobiliary circulation. If we don't do this, biotoxins will pass through the liver and digestive tract over and over, causing chronic inflammation.  We prefer natural toxin binders —to lessen the toxic load. Typically these binders are taken in the morning with fresh organic lemon juice, stimulating the liver and gallbladder to release the toxic build up into the gut so the binder can mop up the toxins there.
In a nut shell
Phase 1– 30 days. Test then Start MARCoNS treatment, Start binders and lemon juice protocol. Begin to detoxify and improve sleep using Sandman. Down regulate inflammation and create Neuroprotection using NeuroDiol and Sandman. Begin Membrane Resolution. Test for Heavy metals and biotoxic load, then slowly start Chelation using ChelaTox 900.
Phase 2- Retest MARCoNS. If negative, stop marcons protocol. If not, continue for another 30 days. Continue binders and lemon juice protocol. Continue to detoxify and promote deeper sleep using Sandman. Support down regulate inflammation and  Neuroprotection as needed using NeuroDiol and Sandman. Membrane Resolution should be considered 4-6 months.  Ask your health care provider about ramping up Chelation using Chelate 900. Support minerals.
Phase 3- Use binders as needed for general use. move to a maintenance dose of NeuroDiol and Sandman. Continue Membrane Resolution (4-6 months). Retest heavy metal and biotin load, and judge the need to continue Chelation with ChelaTox.