MitoZen has discovered a method for travelers to fly without being insulted at the cellular level on the plane by EMF and poor air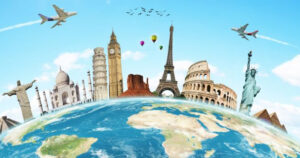 quality, with both a special mist as well as NeuroDiol™ 125mg or 300mg. We have also solved the problem with poor sleep once at your destination, with our Sandman product.
I have always been a "bad" traveler. Up until the last few years, I could never really put my finger on why and just assumed it was part of the deal, and this just had to be accepted. I was diagnosed with severe mold illness a few years ago, which led me to the realization that mold exposure has negative effects on our health, and how important clean air is. Most people are unaware of how terrible the air quality is on commercial airlines. The air is not turned over often, and is recycled in a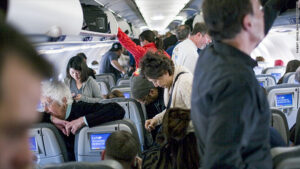 humid and damp cockpit, resulting in a very high mycotoxin load (moldy air). Breathing this air can cause inflammation in our brain and throughout our body. These mycotoxins are neurotoxins and are fat soluble. Once they enter into the body, they lodge themselves into the brain and nervous tissue, causing all kinds of problems. MitoZen solves this problem with GlutaStat™ Vertical Spray.  GlutaStat is a product especially designed for patients with mold illness and chronic sinus issues.  Many infections secrete a sticky film which acts like fly paper holding onto any pollution in the air, and keeps it bound on your mucous membrane.  This continually activates inflammation to your immune system, and specifically inflammation to the brain.  Imagine accumulating all that garbage in the air for several hours, and  being able to keep your sinus' clear and clean.  When you arrive, your upper respiratory system and neurologic system is in peak shape. Misting the GlutaStat™, during and after a flight, makes good sense for those looking to hack travel and arrive in peak health. Another challenge is the systemic effects of neurotoxins and the EMF exposure one gets when flying. We address this with NeuroDiol™.  NeuroDiol™ is a high dose CBD product, which comes in 125mg & 300mg, available in our Travel Hacker Kit™.  If you have any significant issues with hypersensitivities, NeuroDiol™ is a special product, designed to create a sustained blood level of hemp/CBD during your flight.  NeuroDiol™ contains CBD, plant terpenes and probiotic support, with a slow release technology, so it works while you're in the sky. Many studies have shown the brain supporting effects of CBD.   I have found flying to be a breeze when I use these products, prior to getting on the plane. I arrive clear and fresh every time, using this hack. Try it once and you won't want to ever travel without it again.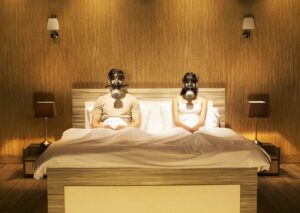 Now, the biggest problem for most travelers is sleep quality, and this is based on 2 problems. The first is time zone, and the other is sleeping in a strange bed / hotel room.  Outside of the potential that your hotel could be tainted with moldy air (handled with GlutaStat NS™ Vertical Spray and NeuroDiol™), there is the strange bed, pillow etc., that can make subtle interferences to your deep and REM sleep. We have hacked this using Sandman™.  Sandman™ is a super physiologic dose of melatonin, along with a powerful antioxidant called glutathione, mixed with plant terpenes, probiotics and CBD from hemp extract. Super physiological melatonin can be a powerful reset to your time clock or circadian rhythm if you're in a different time zone. Waking up refreshed and alert in your new destination is our goal for you. Travel has never been so easy with the MitoZen Travel Hackers  Kit™.