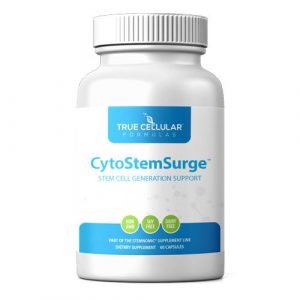 CytoStemSurge™ is a multi-pathway stem cell enhancement product that supports many critical mechanisms of the body's natural regenerative process.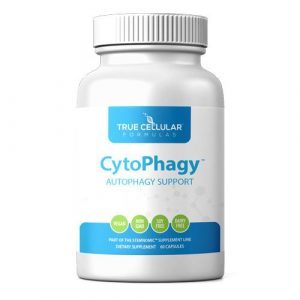 CytoPhagy™ is a product that enhances cellular autophagy, a process in which the body is able to break down unhealthy cells and stored body fat, in order to convert them into usable energy as fuel.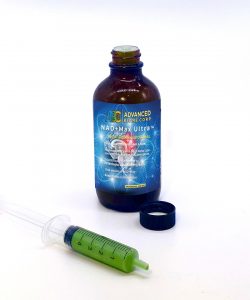 NAD+Max™  each 10ml contains 250mg of NAD+, 125mg of  NR (Nicotinamide Riboside) & 125mg of NMN (Nicotinamide Mononucleotide). Great tasting natural berry flavor with Stevia!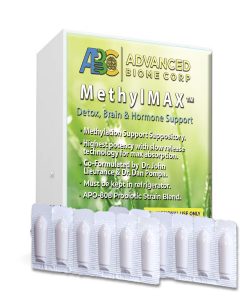 MethylMax™ is a revolutionary product containing the most advanced methylator's all combined in one suppository product. No where will you find this comprehensive of an ingredient list.
ChelaTox™ 
ABC has a unique chelation product with both EDTA as well as the powerful detoxification molecule Glutathione. EDTA releases the cholesterol, and/or toxic build-up in the body, and Glutathione uses its natural ability to wrap and transport the toxins out of the body.
Absorption and bio-availability are the keys to how well it works. For end users, as well as physicians looking for the best quality, MitoZen has shown itself to be the proven leader in chelation. Science is important, as not all products are of the same quality. Methods, formulas, ingredients, consistency, time-release, combined probiotic strains, and other important aspects that create high absorption of EDTA and Glutathione.
Each bullet contains 900 mg of CaNa(2)EDTA, 250 mg of Glutathione,  SRT, and APO-808 Probiotic Strain.
Heavy Metals, Chelation, and Detoxification:
If you've been paying attention to the growing body of research on heavy metal detoxification, then odds are you've heard a thing or two about EDTA and other chelation agents. Before we get into the details of this powerful substance and how it works, let's do a brief overview of heavy metals and the potential harm they can cause to the body. The harmful nature of lead, arsenic, and mercury is well documented. There are dozens of metals in our environment that may be harmful to the body when ingested. It's difficult to pinpoint all of the different ways in which these metals might enter the body (many are tied to specific professions). However, one common activity - which almost certainly results in excessive heavy metal concentrations - is the regular consumption of fish, especially the fish that eat other fish versus smaller fish such as snapper and sardines. Once inside the body, these metals have been known to inhibit the function of multiple physiological systems and processes, as well as promote the general proliferation of free radicals throughout the cellular structure of the body. This results in the potential for numerous serious health concerns to arise. If you are a seafood eater, or if you exhibit symptoms of heavy metal toxicity, then finding a safe and effective means of detoxification is mostly likely a major concern for your health and well-being.
Understanding EDTA:
Ethylenediamine tetra-acetic acid (EDTA) is a chemical that can be found naturally in certain seasonal plants. Its synthetic forms, most notably disodium EDTA and calcium disodium EDTA, were discovered and reproduced in labs as early as 1935. EDTA can be useful for health purposes due to its chelation properties. Chelation essentially refers to the bonding of ions and molecules in one substance (chelation agent), to metallic ions in a separate substance (chelate). This means that EDTA is capable of both attracting and binding to certain types of heavy metals. Naturally, many scientists and health experts have sought to apply these chelation properties to the human body. The idea is that as EDTA passes through the bloodstream and/or digestive tract, it will bond with toxic metals which can then be safely excreted via the urinary tract. Several studies have been conducted to investigate whether or not this theory will work in practice. 
Important Considerations When Using EDTA: We strongly urge you to work with a healthcare professional before supplementing with EDTA. It is important to find a detox regimen that is right for your body, and your level of bodily toxicity. Information that may be of interest when talking to your health advisor:
Safe and clinically proven - Clears toxic metal buildup in tissues and organs - Provides continual slow-release technology for gentle detoxification during sleep - High absorption and tissue concentration is proven in high-tech lab analysis - Proven long-lasting EDTA in the system for deep heavy metal cleansing - Well tolerated by adults & children - Supports cardiovascular and bone health 
EDTA can lower zinc, copper, calcium, and manganese.  If you are low in any of these minerals or plan on taking more than one order of ChelaTox, consider supplementing with these four minerals 24 hours after taking them, then wait 12 hours before your next dose.