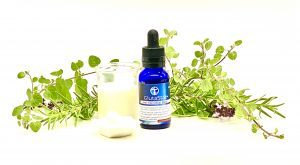 Contains 30 mL of GlutaStat D™ for oral or diffuser Application. This product is the flagship anti microbial product for upper respiratory and sinus health. This works remarkably well as a vertical spray as well as for diffusing.  This product is commonly diffused by the direction of health care practitioners.
High potency formula results in sustained-release Glutathione for optimal blood levels.
Anti-Microbial Herbal Extracts Wild Crafted Oregano, Sage, Bay Leaves and Clove, Copaiba
Antifungal, Antibacterial Terpenes: Linalool, Limonene, Eucalyptol, Geraniol,
Silver Hydrosol (Ag (n)+1) exclusively available from MitoZen!
N-acetylcysteine (NAC) is exclusively available from MitoZen!
This product was designed to provide optimal support for upper respiratory tract (Sinus'/Lungs)
Sold in 30 ml Multi dose bottle and Bulk 120ml Bottle.
*Should be kept refrigerated to maintain full potency